Baucus Proposal A Promising Start, But Neglects Existing Nuclear
Current Fleet Supplies 60% of Domestic Zero-Carbon Energy
Last month Senate Finance Chairman Max Baucus released a proposal to replace 42 existing energy tax incentives with two "technology neutral" tax credits, one for electricity fuels and the other for transportation fuels. By embracing natural gas and new nuclear power, Chairman Baucus' proposal could contribute to a pragmatic climate strategy. But the plan could go even farther by extending incentives to the existing nuclear fleet, where an anticipated decline over the next two decades poses the largest threat to emissions reduction efforts.
As the graph below shows, the country's existing nuclear power stations were mostly built in the 1970s and 1980s. Many of these are approaching their 40th anniversaries and will be required to apply to the Nuclear Regulatory Commission (NRC) for 20-year license extensions to continue operating. The re-licensing process can be costly, particularly if nuclear plant operators are faced with repairs, upgrades, and cheap fossil fuel alternatives. It would be a shame to let a large portion of the country's nuclear fleet, which currently provides 60 percent of our zero carbon emission energy, to shut down because of costly repairs and re-licensing. A pragmatic climate strategy must provide incentives to avoid such shutdowns.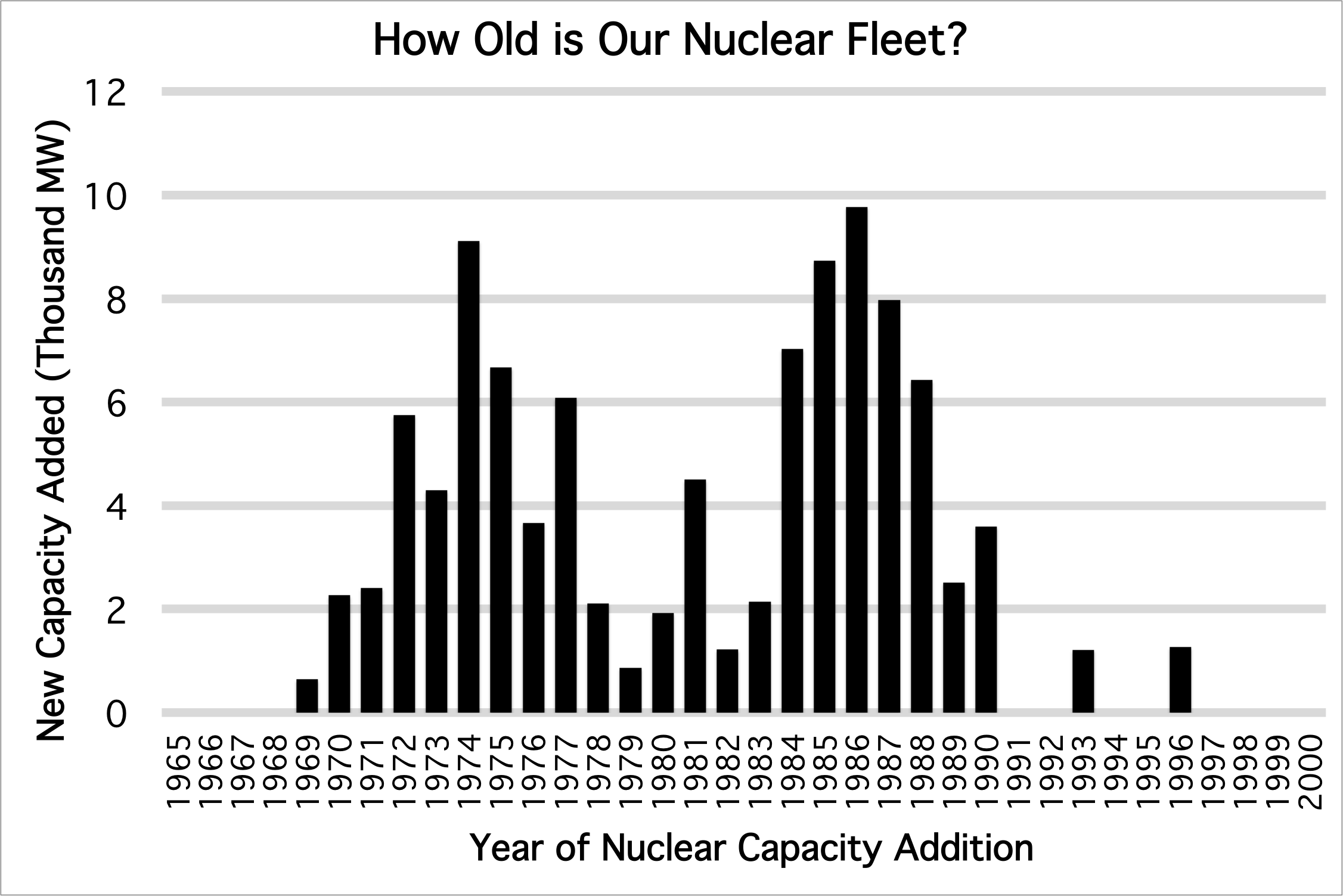 Both of the tax credits in the Baucus plan would take effect beginning in 2017, with the bill proposing extending certain existing tax credits (the production and investment tax credits for renewable electricity fuels, the Section 25D credit for residential solar, and others) until then. The two new sets of incentives in the Baucus proposal are designed to be long-term but not permanent. They would phase out over four years once the greenhouse gas intensity (that is, the amount of greenhouse gases emitted per unit of energy use) of each of the electricity and transportation sectors has declined by 25 percent from 2013 levels.
This streamlined configuration aims to reduce our current energy tax bill by more than half from its current $150 billion price tag over the next decade.
For electricity production, any facility with an emissions intensity 25 percent below the U.S. average would be eligible for a production or investment tax credit whose value would be determined by their emissions profile. A new zero-emissions facility – such as a wind farm, solar plant, or nuclear power station – would be eligible for the largest production tax credit, $23 per megawatt-hour through the first 10 years of a facility's life. This production tax credit would ensure the continued expansion of large wind, solar, and other renewable energy facilities in the United States.
Alternatively, however, zero-emission facilities could claim a one-time investment credit worth 20 percent of a facility's cost. While election of the ITC will be attractive for all low-carbon power technologies, it offers particular advantage to new nuclear power, which faces high upfront capital cost and long construction times. A significant tax credit for such costs could make building new plants much more appealing to electric utilities (operation and fuel costs of nuclear facilities is typically quite low). As we've argued, the deployment of new nuclear power will be an essential part of transitioning to a low-carbon energy supply.
The Baucus plan could also accelerate the deployment of new natural gas facilities, whose greenhouse gas emissions profiles are about 10% lower than the national electricity sector average. A rapid increase in natural gas electricity would accelerate coal's continued decline, thus contributing to greenhouse gas emissions reductions and innumerable environmental and health benefits, such as the ones we outlined in a recent report. Additionally, given that many new gas-fired power plants are designed to rapidly adjust their electricity output, more gas could support the scaling up of intermittent wind and solar power.
A third major benefit of Baucus' tax package is its inclusion of an investment tax credit for existing power plants that add carbon capture and sequestration (CCS) technology. The proposal includes an investment credit for facilities where CCS systems "capture at least 50 percent of their previous carbon dioxide emissions." The development and deployment of CCS technologies will be a crucial element of a low-carbon electricity supply.
Where the plan falls short is ensuring the longevity of our current zero-carbon energy facilities. Most importantly, the plan does nothing for existing nuclear facilities, which supply 19% of the nation's electricity and 60% of domestic zero-carbon energy. Due to aging plants, cheap natural gas, and public opposition, five nuclear stations have been closed or scheduled to close, representing 3.3% of our zero-carbon energy supply. Another six stations, representing 3.1% of our zero-carbon energy supply, are in imminent danger of closing.
Longer term, the prospects for existing zero-carbon nuclear are even grimmer. 33 of the nation's nuclear power plants, or about 20% of the nation's low carbon energy supply, have not filed or been approved for a 20-year license extension. As the graph below shows, these plants, which range in age from 18 to 41 years, will face license expiry in the 2010s, 2020s, and 2030s. To keep these plants running safely will require financial incentives for costly new construction and relicensing. The Baucus plan should include such tax incentives for existing plants that are facing licensing renewal at the end of their 40th year of operation.
It's uncertain whether there will be more discussion in Congress about the proposal in the near term, considering that Baucus is soon leaving Senate to be U.S. Ambassador to China. Yet Baucus' proposal may influence other energy-focused legislators, including Senator Ron Wyden, and contribute to future energy and tax reform efforts.
The Baucus proposal represents a significant leap forward from the suite of existing tax policies. Since it is tied to an economy-wide reduction in the energy intensity of greenhouse gas emissions, it would likely favor technologies that drive carbon reductions the fastest at lowest cost. And while the proposal may not be optimal for fostering innovation, it would certainly be a step in the right direction. Moreover, it would advance new nuclear power, natural gas, and CCS, technologies that will be crucial to a future low-carbon electricity sector. Crucially, however, the plan should also ensure a sustainable future for our existing zero-carbon nuclear fleet.