After Magic Asterisks: Top Breakthroughs of 2018
"We want to avoid relying on magic asterisks," the World Resources Institute's Tim Searchinger told The New York Times. He was referring to WRI's ground-breaking new report, Creating a Sustainable Food Future, which explicitly rejected a range of long-standing environmental tropes — about food waste, vegetarianism, carbon farming, and agro-ecology — that have allowed environmental advocates to avoid dealing with hard truths about food production and the environment.
The insight applies equally well to environmental questions that go well beyond what sustainable agriculture for a planet of 7 (going on 10) billion will need to look like. Hard-headed pragmatism must always be leavened by vision and optimism. But when future possibles and social and technological imaginaries conflict with facts, physics, and the social inertia of a present that is highly path-dependent, vision too often morphs into magical thinking, becomes a shortcut to resolve cognitive dissonance, and takes us places we never wanted to go.
In all sorts of ways, we think 2018 has been a year for moving beyond magic asterisks in long-standing environmental debates: for making assumptions explicit, for acknowledging that we are making policy under conditions of enormous social, environmental, and technological uncertainty, and for not letting the perfect become the enemy of the good.
Here, then, are the Top Breakthroughs of 2018.
The Union of Concerned Scientists changes their tune on nuclear energy.
In November, the Union of Concerned Scientists released The Nuclear Power Dilemma, a report recommending policies to save threatened nuclear power plants in the United States. That UCS, one of the first environmental organizations founded largely to push back against nuclear power and nuclear weapons, came out so publicly and firmly in support of nuclear power plants marks a significant shift. As Breakthrough's Ted Nordhaus wrote, "it is time not just to recognize the importance of nuclear energy but also that making it so is not someone else's job. If you care about the climate, you need to care about nuclear energy." It is also time for nuclear advocates to banish their own magic asterisk. If a nuclear future is predicated upon abandoning irrational fears of nuclear accidents and radiation exposure, that future remains a very long way off.
The World Resources Institute outlines new agenda for sustainable intensification.
As we wrote in An Ecomodernist Manifesto and our Future of Food essay series, the foundational goal of agricultural innovation is intensification: to grow more food on less land. So we were pleased to see the World Resources Institute's new report, Creating a Sustainable Food Future, which compiles six years of research into a comprehensive vision for sustainable intensification. In addition to ambitious (but not magical) targets for diet shifts and farming practices, the WRI report relies on intensification and productivity growth for two-thirds of its modeled emissions reductions. This marks a decided contrast with much conventional environmental wisdom, which holds that we don't need to grow any more food, we just need to eat less meat, waste less food, and use more regenerative, organic, and/or agroecological practices. It's a welcome contrast, to say the least.
California passes a 100% clean energy standard.
In July, California amended its long-standing renewable portfolio standard, setting the goal of 100% clean energy, including nuclear and carbon capture, by 2050. Traditional RPSs have prioritized wind and solar and other renewable technologies. But the scholarly community has increasingly recognized that a broader set of energy technologies will be necessary for deep decarbonization. This year, liberal policy-makers in places like California have finally started to take this consensus seriously.
California's shift echoes recommendations made in a report we released this summer with Third Way, Clean Energy Standards. Lead author Jameson McBride wrote about California's clean energy standard in the Los Angeles Times with Breakthrough's Ted Nordhaus, and proposed a federal clean energy standard in The New York Times with Justin Gillis.
Congress passes legislation to advance nuclear and carbon capture technologies, and increases funding for energy innovation.
In 2016, Ted Nordhaus and Jessica Lovering published an analysis observing that emissions have tended to decline more slowly after major climate policies, like the European Union Emission Trading Scheme or the Kyoto Agreement, have been established. So if emissions targets and timelines don't lead to climate progress, then what does? Since Breakthrough's founding, we have held that emissions will decline when cheap, clean, scalable alternatives exist. That's what replaced oil and coal in France in the 1970s and 1980s; it's what replaced coal in the United States over the past decade; and it's even driving significant growth in clean energy today, with solar and wind's price declines over the past 15 years.
So it was more than a little bit validating that in the most polarized Congress since at least Reconstruction, and even as explicit climate politics have become ever more detached from the basic realities of the global energy economy, Congress passed legislation to accelerate innovation in nuclear, carbon capture, and other clean energy technologies. The omnibus bill increased funding for energy innovation at the Department of Energy and established tax credits for carbon capture. Congress also passed the Nuclear Energy Innovation Capabilities Act and a broad bipartisan coalition of senators introduced the Nuclear Energy Leadership Act. These latter two legislative initiatives lean heavily on the recommendations made in Breakthrough's reports How to Make Nuclear Cheap and How to Make Nuclear Innovative.
International efforts to limit global warming to two degrees above pre-industrial levels, have, for many years now, been predicated upon all manner magical assumptions and demands. IPCC mitigation scenarios have assumed enormous quantities of "spontaneous decarbonization" and, more recently, direct carbon removal from the atmosphere. Long-term targets established by national governments have assumed sustained, historically unprecedented rates of decarbonization. Some advocates demand an end to capitalism or voluntary degrowth as the only answers while others believe that the entire global economy must be reorganized around intermittent sources of renewable energy.
Last February, Ted Nordhaus argued in a widely read essay in Foreign Affairs that continuing obeisance to the two-degree target was not only fantasy but counterproductive, leaving the world ill-prepared to manage the consequences of climate change. He followed that up in May with testimony before the House Committee on Science, Space, and Technology. In his testimony, Ted made the case that traditional climate mitigation approaches like efforts to cap or regulate carbon emissions have not made the progress their advocates had hoped for, and that a policy agenda built on clean energy innovation offers the best path towards accelerated decarbonization this century. In these and other ways, 2018 marked an important inflection point. Increasingly, researchers, advocates, and policymakers are coming to terms with the reality that the two-degree target is no longer feasible, so we must recalibrate policy and political efforts to limit warming as best we can while preparing for a much warmer world.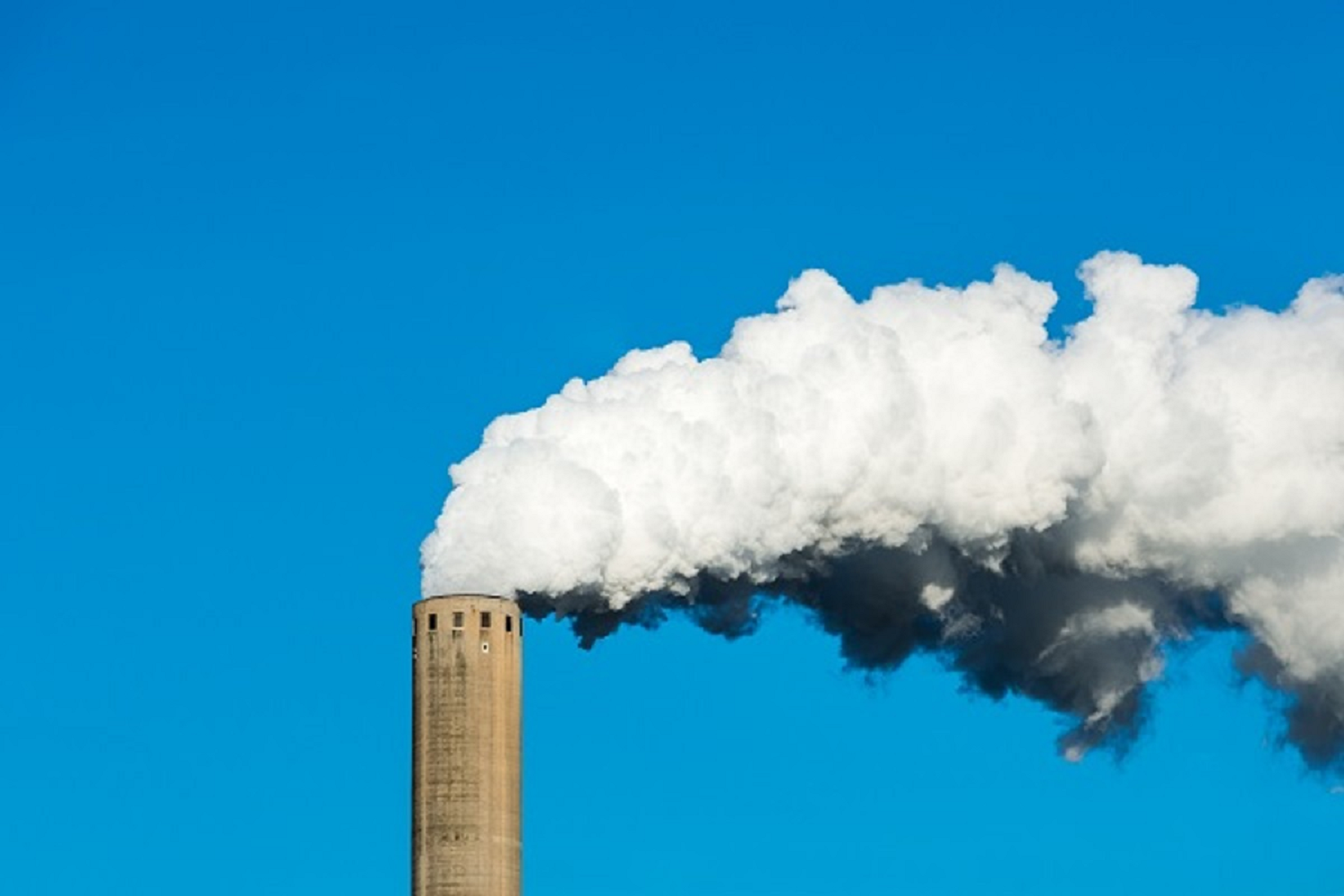 Google and Xcel Energy pledge to go beyond "100% renewable."
In May, Breakthrough's deputy director Alex Trembath pushed back on the claim that Apple now gets 100% of its electricity from renewable energy sources. This claim, as Alex wrote, came with an important magical asterisk of its own. It's one thing to buy and sell renewable energy credits and achieve 100% renewable goals in an accounting sense. But it's another thing entirely to run a grid wholly on renewables, especially intermittent technologies like wind and solar. Apple's achievement was still progress, but we were pleased to see a couple other companies push the envelope further this year. In October, Google released a white paper detailing their goals to power 100% of their operations with clean energy — including, potentially, carbon capture and nuclear power — on a 24/7, grid-wide basis. And perhaps even more significantly, in December the utility company Xcel Energy, which services eight states with over 17 gigawatts of capacity, pledged to reach 100% clean energy, including nuclear and CCS, by 2050. These heartening moves from major US corporations provide yet more evidence that we should put the 100% wind/water/solar framework firmly in our rearview and move forward with a more pragmatic decarbonization agenda.
Conservation's magic asterisks.
Over the last several months, Breakthrough's Linus Blomqvist has published two important analyses correcting a common misperception about the relationship between human well-being and environmental impacts. Conservationists have long argued that increasing dependence on ecosystem services is good for human wellbeing and alternately, that reduced ecosystem function threatens human well being. In November, Blomqvist interrogated claims made in a recent WWF report that declining wildlife populations and biodiversity threaten human material well being. A couple weeks later, Blomqvist challenged a recent peer-reviewed study in Science that claims that low intensity agro-ecological practices can outperform conventional monocrop systems environmentally while also meeting growing demand for food. In both cases, the argument simply doesn't hold up. Nature and biodiversity have intrinsic value and are important to our spiritual well-being. But there is overwhelming evidence that humans could thrive materially on a much less biodiverse planet.
Some have called this the environmentalist's paradox: if we depend on nature for our well-being, then how has humanity fared so well while destroying so much nature? As Linus writes, it's simply not much of a paradox. Human systems thrive by decoupling from and transforming nature. That means we will need to save nature for its inherent worth, not to save our own skins. Similarly, low-intensity agriculture, which depends more heavily on natural nutrient flows and not external synthetic inputs, is good for wildlife that can thrive in fields and orchards. But because it requires more land, scaling it to feed large human populations will require converting forests and grasslands, which can harbor much greater biodiversity. Agriculture and other human systems that depend more heavily on natural nutrients and energy, Blomqvist reminds us, are worse, not better, for biodiversity and ecosystems globally.
Transatomic Power closes up shop — but nuclear innovation continues.
We need to check our own magic asterisks too. It's easy to count on cheap, advanced nuclear reactors becoming scalable and competitive in the future, but nuclear innovation is hard, not easy. In September of this year, Transatomic Power, once the darling of the advanced nuclear industry, announced it would shut down, resigning to recently encountered technical limitations of the original reactor designs. We are as disappointed in Transatomic's fate as anyone, but we also know that for advanced nuclear to become a commercial reality, we will need more failures, not fewer. And that will require committed public and private investments in new companies and new reactor designs. Fortunately, as our partners at Third Way have been tracking for years, the advanced nuclear industry at large is growing strongly. We see further growth and innovation on the horizon, as we detail in our new policy paper Planting the Seeds of a Distributed Nuclear Revolution, co-authored with ClearPath and the R Street Institute.
William Nordhaus and Paul Romer win Nobel Prize for Economics.
This month, the Royal Swedish Academy of Sciences presented William Nordhaus and Paul Romer with the Nobel Memorial Prize in Economic Sciences. The two economists were each recognized for their work on economic growth: Romer for the role that knowledge and institutions play in innovation and growth, and Nordhaus for the role of growth in mitigating and adapting to future climate impacts. As an adamantly pro-technology, pro-growth environmental research organization, Breakthrough has much to thank Romer and Nordhaus for.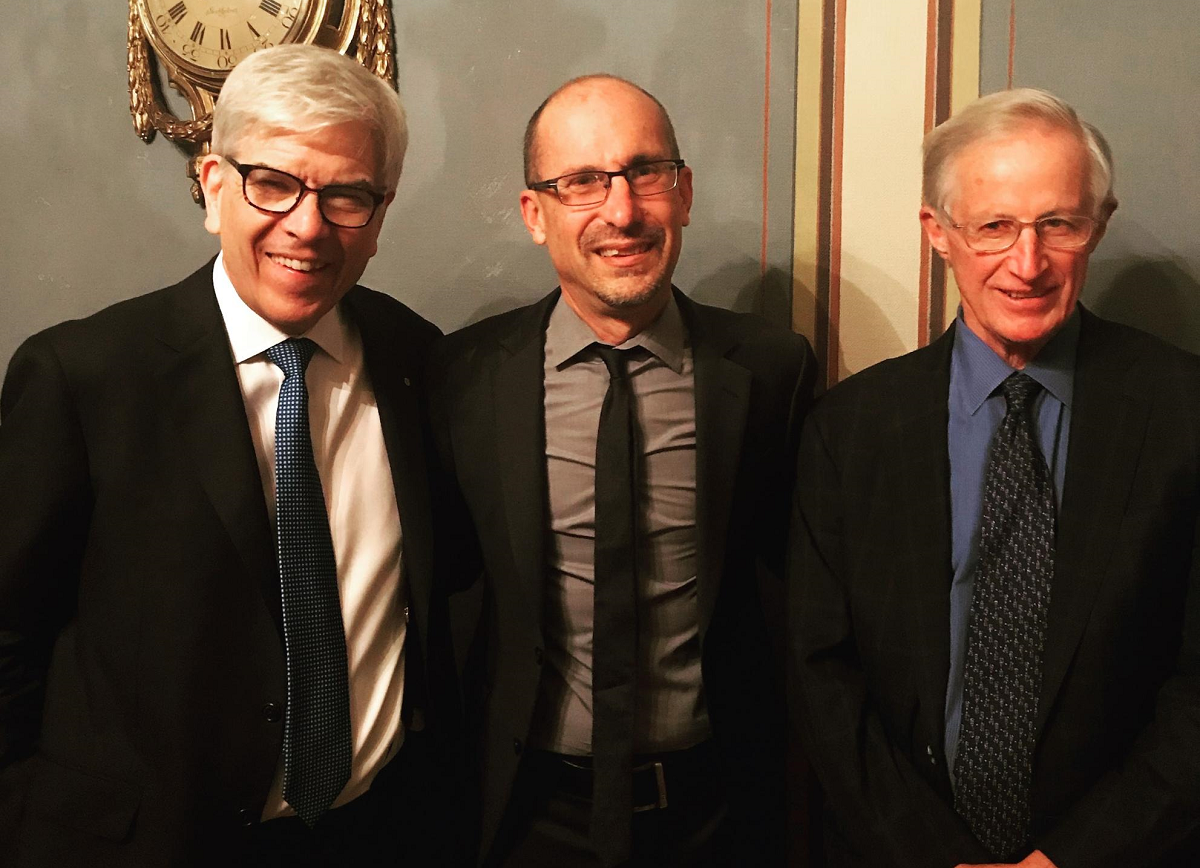 Breakthrough's Executive Director, Ted Nordhaus (center), joins William Nordhaus (right) and Paul Romer (left) in Stockholm for the Nobel ceremony and celebrations.
2018 was also a year of growth for the Breakthrough Institute. We welcomed new Senior Fellows Julio Friedmann, Sarah Evanega, Steven Pinker, and Ariane de Bremond, and Generation Fellows Jamie Fanous, Prerna Bhat, Sakhi Shah, Nassib Mugwanya, Jessica Dunn, Anaya Hall, and Nyla Khan. For the first time, we released two issues of our Breakthrough Journal, featuring essays by Rachel Laudan, Alan Levinovitz, Mark Sagoff, Charles Mann, Steven Pinker, Jenny Splitter, Varun Sivaram, Julie Guthman, and others. We hosted our regular Breakthrough Dialogue in Sausalito in the summer and Ecomodernism 2018 in the fall, our first three-day conference on the East Coast. We also launched our redesigned website in December 2018, which better features the expanding breadth of our work and the many ways our network can access it.
Breakthrough's staff continues to grow as well. This year we hired Jamie Fanous as a new food and agriculture analyst and Alyssa Codamon as multimedia producer. Tali Perelman, who joined Breakthrough in February as an editorial associate, will move into a new role as Breakthrough's new digital communications manager. Kenton de Kirby, who also joined us in February, will become Breakthrough's content director. And Alex Trembath, longtime Breakthrough analyst and communications director, will be moving into a new role as deputy director.
2018 Breakthrough Generation Fellows at the June Dialogue.
Here are a few of our favorite posts, videos, and podcast episodes from 2018.
Posts:
To address the environmental challenges of nitrogen pollution, many advocate for a universal switch to organic farming, which eliminates the use of synthetic fertilizer. But "organic" is not a monolithic category. Instead of one-dimensional debates, we should focus on broader ways to reduce nitrogen pollution from all types of fertilizer.
It's no coincidence that the fastest decarbonization rates have occurred in centralized, state-dominated energy systems. The Green New Deal proposed by Rep.-elect Ocasio-Cortez seems to be the sort of climate "Medicare for All" we've been looking for — but it consists of relatively traditional, Obama-era market-oriented policies.
Banning plastic straws is meant to leverage a larger conversation, but the scale of its impact does not match the scale of the problem. If environmentalism becomes about vilifying so many of life's small pleasures and conveniences, it might turn people away, not rally them to the cause.
Videos:
On Mother Earth and Earth Mothers

.

Jennifer Bernstein's talk at the 2018 Breakthrough Dialogue asks whether (and how) environmentalism can take feminism seriously.

Nuclear for 1.5°

. Jameson McBride breaks down IPCC's 2018 Special Report and what that means for the future of nuclear energy.

The Breakthrough Generation Fellowship

.

There are now nearly 100 alumni of the Breakthrough Generation Fellowship, and they've gone on to work on the world's most wicked problems from positions in government, academia, start-ups, foundations, and more. Here's what the program looks like.
Podcasts:
Wizards and Prophets

.

Historian Charles Mann explains the ancient feud among environmentalists by distinguishing between two camps: wizards, who believe that the world's growing population and affluence can be accommodated through the wise application of technology, and prophets, who believe that lacking significant downscaling of human numbers and appetites, we are doomed.

On Naturalness

.

Ever touched a plant to check whether it was "natural" or not? Is clean meat "real"? What is nature, anyway, and does it matter? If you had asked writer and professor Alan Levinovitz a few years ago, he would have been skeptical. Today, however, he'll defend the concept fiercely.

Ecomodernist Philanthropy

.

Rachel Pritzker, founder and president of the Pritzker Innovation Fund, tells us about her philosophy on giving with impact.

Instead of staying gridlocked in old battles, Rachel seeks new ideas that are less politically rigid and offer space for bipartisan action.
The Breakthrough Institute is a global research center that identifies and promotes technological solutions to environmental and human development challenges. We believe that human prosperity and an ecologically vibrant planet are possible at the same time. Breakthrough matters in the world when we get in front of environmental debates and take them to new places. In the coming years, we plan to continue to do just that.
And while we are unabashedly pro-technology, we are not funded by any of the industries related to our work. Since our founding, we have been 100% supported by philanthropy and individual generosity. As you are planning your end-of-the-year giving, we hope you will consider the Breakthrough Institute.